Dog Clip Art and Cat Clip Art Volume II
Dog Clip Art and Cat Clip Art for you! Instantly download Royalty Free, Scalable, Vector and Internet-Ready Cartoon Dog Clipart and Cat Clipart and T-Shirt Art! A classic collection of many Breeds and Pet related Images, in Fun, "Cartoony" Situations and Poses for Tees, Newsletters, Posters, Fliers, Websites, Print Projects & more! Created specifically Embroidery Software Pattern Digitizers, Graphic Designers, Screen Printers, Sign Makers, Desktop Publishers and Web Designers.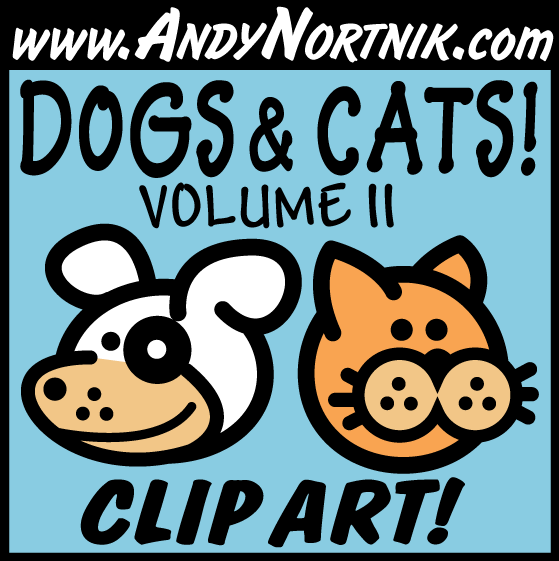 Howdy pet lovers, pet owners and anyone associated with the pet care industry! ... I've created this original collection of cartoon dogs and cats just for you! Perfect for T-Shirts, logos, newsletters, fliers, catalogs, web pages, web sites, desktop publishing, embroidery templates for digitizing, graphic design, holiday greeting cards, e-cards, homemade crafts, stamping templates and much, much more! Some of the industries that might benefit from the collection include breeders, groomers, kennels, animal rescue agencies, dog trainers, humane societies, seeing eye dog and guide dog agencies, pet sitters, pet shops, pet adoption agencies, veterinarians, veterinary service providers and anyone who just loves cats and dogs! Let Wag and Pounce (TM) be your customer's personal mascots that guide them through your printed catalog, newsletter, web store or web site!

WHAT YOU GET! 60 cartoon images of Wag and Pounce (TM) at play! There's cartoon and comic art too like word balloons and thought balloons ready to customize with your personal message! Also included is Web art like buttons, banners, templates, icons, holiday art and more!
THE FORMATS: Each and every image is provided in three industry-standard formats:
.eps high resolution (600dpi), scalable vector format for screen printing, traditional offset printing, dye sublimation and heat transfer processes

.jpg for import into most Microsoft products including Word, PowerPoint, Outlook and others!

.gif optimized files with transparent backgrounds for all Web and Internet media
All images are color-separated for screen printing using PMS (Pantone Matching System) spot colors or CMYK (4 color process) and are also ideal for dye sublimation, and heat or digital transfer processes! A printable catalog comes with the collection so you can find what you need fast! Please read my Usage Agreements before you buy.

LIMITED TIME SALE!
60 IMAGES FOR ONLY $4.99!

Download the images to your desktop INSTANTLY!
Why wait for a CD ROM to be mailed to you? Click the "Download Now/Add to Cart" link below to pay safely and securely using MasterCard, Visa, Discover, American Express or PayPal and upon payment you will receive an instant DOWNLOAD link to this collection right now! Once you click the DOWNLOAD link, you will be able to save a compressed (.zip) file to your hard drive which you will be able to open using Winzip [Windows] or Stuffit Expander [Mac]. The file contains all of the images and formats mentioned above for this collection.
Download Now/Add to Cart
BONUS! Take 20% OFF $10 Purchase or More!
Enter This Coupon Code Just Before Checkout: 789393YR
---
---