~INSTANTLY DOWNLOAD ALL OF THESE IMAGES BELOW!~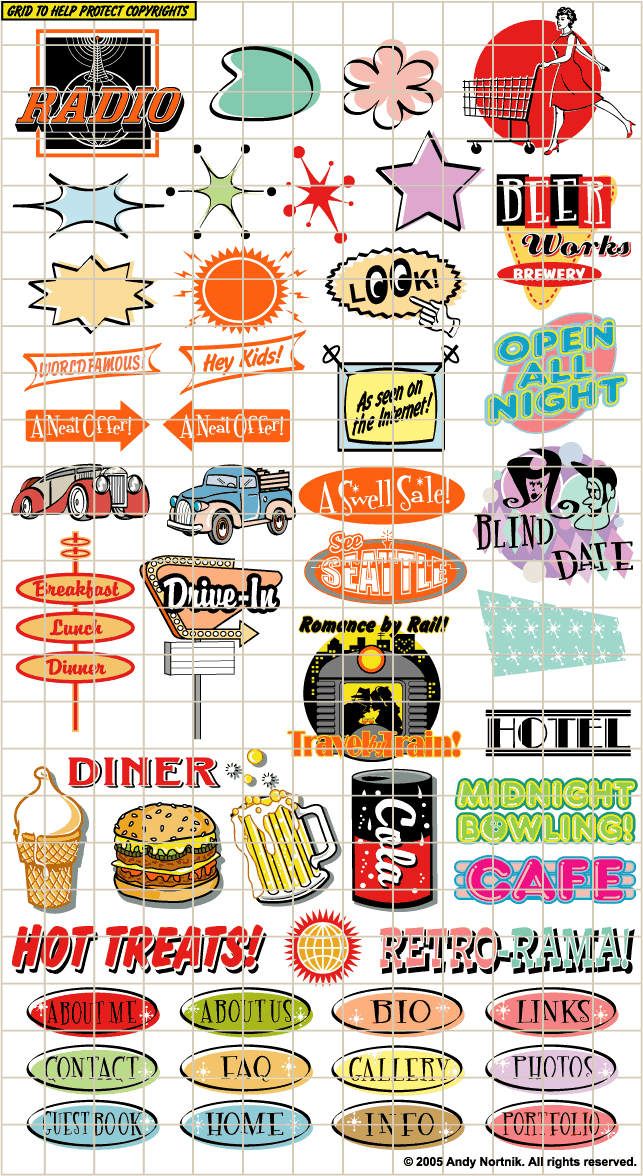 It's finally here! Retro Clip Art Volume II, the companion collection to Retro Clip Art Volume I. The hippest collection of color, retro and vintage clip art and ad art on the Internet!
WHAT YOU GET! ALL of the images shown here! More classic images including billboard art, logo templates, T-shirt templates, a "June Cleaver" style character pushing a shopping cart, not to mention signage and magazine art from the atomic age! You'll love the "pen and ink" style spot illustrations of retro web icons and elements, frames and borders!
This collection, created with the graphic artist, desktop publisher, printer and publisher in mind also includes advertisements like "A Swell Sale!" and "A Neat Offer!" to give your monthly web special that needed vintage punch! Web designers and developers will appreciate the navigation and cart buttons, banners and dingbats too! Plus, I didn't forget about the classic Americana enthusiast and have included several retro and vintage travel images and leisure clips, along with more diner food, coffee and silver screen movie snacks than you can shake a greasy spoon at! There's even a classic "Route 66" style drive-in movie sign with a blank marquee just waiting for you to customize!
It's the ultimate clip art collection for screen printers, tattoo artists or anyone who needs, unique, 100% ORIGINAL art for custom T-shirts, web sites, web pages, desktop publishing, offset printing, embroidery templates for digitizing, graphic design, holiday greeting cards, home made crafts and more! So don't be a square, buy today!
THE FORMATS: Each and every image is provided in three industry-standard formats:
.eps high resolution (600dpi), scalable vector format for screen printing, traditional offset printing, dye sublimation and heat transfer processes

.jpg for import into most Microsoft products including Word, PowerPoint, Outlook and others!

.gif optimized files with transparent backgrounds for all Web and Internet media
All the images are color-separated for screen printing using PMS (Pantone Matching System) spot colors but are equally perfect for dye sublimation, heat or digital transfer processes! A printable catalog comes with the collection so you can find what you need fast! Please read my Usage Agreements before you purchase this collection.
BONUS! FREE RETRO FONTS AND DINGBATS!
I've searched the Internet and have collected 20 of the Web's coolest, shareware retro fonts and dingbats for you! They are the PERFECT compliments to my Retro and Vintage clip art images!
To download the fonts separately, click the links below:
SALE! 50 IMAGES FOR ONLY $4.99!

Download the images to your desktop INSTANTLY!
Why wait for a CD ROM to be mailed to you? Click the "Download Now/Add to Cart" link below to pay safely and securely using MasterCard, Visa, Discover, American Express or PayPal and upon payment you will receive an instant DOWNLOAD link to this collection right now! Once you click the DOWNLOAD link, you will be able to save a compressed (.zip) file to your hard drive which you will be able to open using Winzip [Windows] or Stuffit Expander [Mac]. The file contains all of the images and formats mentioned above for this collection.
Download Now/Add to Cart
BONUS! Take 20% OFF $10 Purchase or More!
Enter This Coupon Code Just Before Checkout: 789393YR
LOOK! Buy Two Collections and Save 20%!




Buy both volumes of

Retro Clip Art Volume I

and

Retro Clip Art Volume II

and I'll take 20% off the total price! Click the "Buy Both!" link below:

Buy Both!

Retro Clip Art
Volume II