Christmas Clip Art for you! Instantly download 100% original and unique, Royalty-Free Images in Vector and Web-Ready formats! A Classic Collection of Advertisements, Illustrations, Signs, and Logo Art from the 1930s, 1940s and 1950s including Santa Claus, Antique Toys, Ornaments, Borders, Children Clipart and more! Created specifically for Embroidery Software Pattern Digitizers, Graphic Designers, Screen Printers, Sign Makers, Desktop Publishers and Web Designers.
Ho! Ho! Ho! ... Merry Christmas! Ah, the trip home from the country with our newly found Christmas tree tied to the roof of the old sedan. All the while drinking steaming hot chocolate and listening to Christmas carols on the old Philco radio! Now THAT was Christmas! Relive holidays gone by with my classic, retro and vintage holiday clip art collection! Perfect for T-Shirts, logos, newsletters, fliers, catalogs, web pages, web sites, desktop publishing, embroidery templates for digitizing, graphic design, holiday greeting cards, e-cards, homemade crafts, stamping templates and much, much more!
This collection, created with the graphic artist, crafter, card maker, desktop publisher and web designer in mind, includes spot illustrations, borders, frames and icons. Vintage toy collectors will appreciate the antique train, rocking horse, wrecking truck, wagon, teddy bear, sail boat, sled and tricycle. There's even a bicycle built for two! Collectors of the atomic age will love the sci-fi robot and classic spaceship reminiscent of the old Flash Gordon serials! Drive down memory lane past the vintage diner restaurant and Victorian home, both decorated for the holidays!
If you're interested in celebrating the "spirit" of Christmas in the old fashioned way, I've included lots of party clip art too including martini glasses, wreathes, a Christmas tree, confetti, and some New Year's Eve surprises! Connoisseurs of vintage magazine style "pen and ink" illustrations will love my retro mom and dad, girl and boy and teenager faces! The perfect final touch to that retro party announcement or holiday postcard!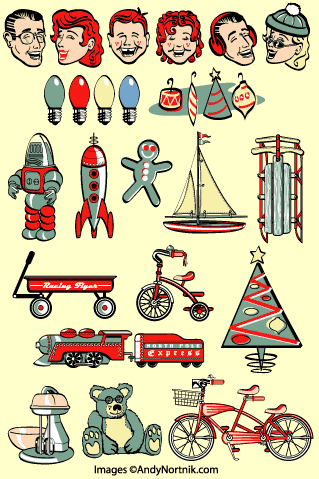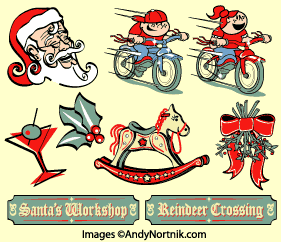 THE FORMATS: Every image is provided in the following industry-standard formats:
• .eps scalable, high resolution (600dpi) vector format for screen printing (color separated), traditional offset printing, dye sublimation and heat transfer processes!
• .jpg for import into all Microsoft products including Word, PowerPoint, Outlook and others!
• .gif optimized files with transparent backgrounds for all Internet media including web sites and web pages!
All images are color-separated for screen printing using PMS (Pantone Matching System) spot colors and are also ideal for dye sublimation, and heat or digital transfer processes! A printable catalog comes with the collection so you can find what you need fast! Please read my Usage Agreements before you buy.